Industrial clerk
Purchasing, sales, human resources, accounting, administration or marketing. During your apprenticeship as an industrial clerk, you will work in a wide variety of departments. In the process, you will become familiar with various internal company processes and gain flexible experience for your career.
Job profile
Plan and oversee various commercial areas of responsibility in various departments (sales, purchasing, accounting or human resources, administration) and carry out tasks as well.
Organize and coordinate appointments, carry out the relevant correspondence work
Participate in various administrative and organizational activities
Learn about and use standard software and computer programs that are specific to the workplace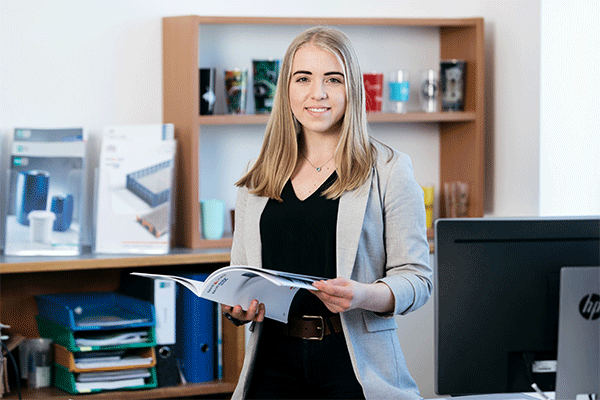 Requirements
This apprenticeship is mainly suitable for young people who have a strong aptitude for language and math. Mental flexibility and a strong ability to concentrate will make it much easier to complete your tasks.
You must enjoy working with a computer as well as our customers. Are you communicative and friendly? Do you have good organization skills, and have you completed your 9th year of school? Then you are the right candidate for us. Even if you plan on changing your current field of study or wish to switch to an apprenticeship from your educational path – you are still welcome to apply.
Graduation 9th school year
Next apprenticeship period
To be determined
Duration of apprenticeship
3 years
A shortened apprenticeship period is possible (e.g. after school leaving examination)
Reasons for completing an apprenticeship at FRIES
FRIES Plastics Technology
For the attention of Michael Berchtold
Training Manager
Schützenstraße 19
6832 Sulz – Austria