HOST Mailand
– Hall 11/Stand L12 9P
20 – 24 October, 2017 – Mailand, Italy
Alles für den Gast – Hall 10/Stand 923
11 – 15 November, 2017 – Salzburg, Austria
Intergastra – Hall 5 /5P37
03 – 07 February, 2018 – Stuttgart, Germany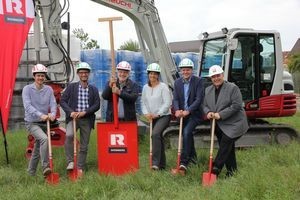 With a symbolic ground-breaking ceremony, the FRIES Group began the construction of the warehouse in Sulz.
Fries Kunststofftechnik GmbH of Sulz, Austria, is expanding its headquarters with the warehouse, which will be built in two construction phases. Additional storage capacity has become necessary, due to an average annual sales growth of 6% in the group of companies in recent years. The new building will also include new loading ramps and additional employee parking spaces. The first phase of the construction is expected to be completed by July 2019. Rhomberg Bau GmbH, the specialist for the new construction, is in charge of the execution and the reitbruggerGAU company (Wolfgang Reitbrugger, DI) is in charge of the planning. The investment volume is estimated at 2.5 million.
In the picture, from left to right: Daniel Mohr (Rhombergbau) / Gerhard Marte, Thomas Rhomberg, Katharina Rhomberg, Gerhard Bertsch (Fries management) / Stefan Gisinger (Rhombergbau)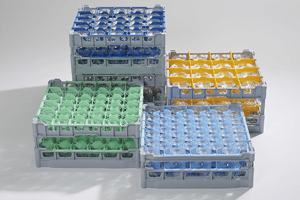 Two additional extenders are now available for the Clixrack system of the fries-rack range. Extender P can be used for glass heights of up to 245 mm. Extender S can be used with our 500×500-mm racks for glasses of up to 115 mm and with our 600×400-mm racks for glass heights of up to 145 mm.
The new additions mean there are now 8 extenders in total for rack sizes 500×500 mm and 600×400 mm. For more information on the possible versions, please refer to our brochures.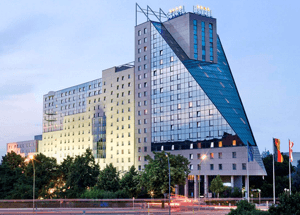 Fries is supplying the Berlin-based conference and event hotel Estrel with more than 1400 dishwasher and storage racks. With over 1300 beds, the Estrel is the largest hotel in Europe. Usually, these kinds of order involve between 30 and 40 commercial dishwasher racks. Fries is the European market leader for commercial dishwasher racks. www.estrel.com