HOST Mailand
– Hall 11/Stand L12 9P
20 – 24 October, 2017 – Mailand, Italy
Alles für den Gast – Hall 10/Stand 923
11 – 15 November, 2017 – Salzburg, Austria
Intergastra – Hall 5 /5P37
03 – 07 February, 2018 – Stuttgart, Germany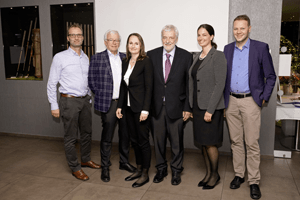 After 32 years of successful service, FRIES Kunststoff GmbH Managing Director Thomas Rhomberg entered into well-deserved retirement in a ceremony on 9 November. The occasion commenced with a short tour of the company at corporate headquarters in Sulz, followed by festivities at the 2erlei in Rankweil.
As Managing Director for Research and Development, Rhomberg significantly has influenced the company's success story in recent decades. After completing his studies in plastics engineering in Vienna and spending several years abroad, he began his professional career at FRIES in 1986. Rhomberg was appointed authorized signatory in 1988. In 2002, he assumed the helm as managing director under trade law, and has been a managing partner since 2007.
With his extensive techincal knowledge of plastics and plastics processing, Rhomberg has influenced countless product as well as material and process innovations. FRIES holds numerous patents and has garnered several awards for innovation (including multiple national awards, in addition to being a Worldstar and Eurostar award winner). Through his great dedication and his tireless scientific activities in the polymers sector, Rhomberg was able to share his knowledge and know-how in various expert groups throughout Europe. Rhomberg is also a winner of the Ernst Schmitz Prize (TGM) and a recipient of the silver badge of honor (ÖNORM), in addition to being awarded with the H.F. Mark Medal.
In addition to his wife and family, the evening's well-wishers included Sylvia Hofinger/Johann Pummer (Association of the Austrian Chemical Industry), Michael Washüttl/Peter Krojer (Austrian Research Institute for Chemistry and Technology), Michael Amann (Vorarlberg Chamber of Commerce) and Karl Wutschitz (Mayor of Sulz).
The evening's well-received entertainment was provided by solo cabaret artist Gabi Fleisch, who performed excerpts from her successful show "i hau ab".
Pictured from left to right: Gerhard Marte (Fries executive management)/Martin Rhomberg (Fries partner), Sylvia Hofinger (Association of the Austrian Chemical Industry)/Thomas Rhomberg, Katharina Rhomberg, Gerhard Bertsch (Fries executive management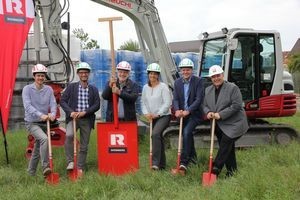 With a symbolic ground-breaking ceremony, the FRIES Group began the construction of the warehouse in Sulz.
Fries Kunststofftechnik GmbH of Sulz, Austria, is expanding its headquarters with the warehouse, which will be built in two construction phases. Additional storage capacity has become necessary, due to an average annual sales growth of 6% in the group of companies in recent years. The new building will also include new loading ramps and additional employee parking spaces. The first phase of the construction is expected to be completed by July 2019. Rhomberg Bau GmbH, the specialist for the new construction, is in charge of the execution and the reitbruggerGAU company (Wolfgang Reitbrugger, DI) is in charge of the planning. The investment volume is estimated at 2.5 million.
In the picture, from left to right: Daniel Mohr (Rhombergbau) / Gerhard Marte, Thomas Rhomberg, Katharina Rhomberg, Gerhard Bertsch (Fries management) / Stefan Gisinger (Rhombergbau)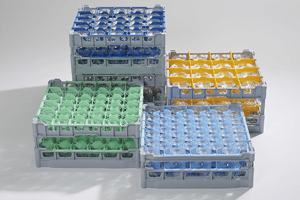 Two additional extenders are now available for the Clixrack system of the fries-rack range. Extender P can be used for glass heights of up to 245 mm. Extender S can be used with our 500×500-mm racks for glasses of up to 115 mm and with our 600×400-mm racks for glass heights of up to 145 mm.
The new additions mean there are now 8 extenders in total for rack sizes 500×500 mm and 600×400 mm. For more information on the possible versions, please refer to our brochures.