References Industrial Baskets and Workpiece Carrier Systems
Our customers' trust in our products grows from project to project.
We are an innovative supplier of all-in-one systems for industrial parts cleaning – tech-rack, techtray and tech-rack variogrid have proven to be effective in all processes – from cleaning through transport to storage.
Personalized support, high quality and durability of our products are our distinctive characteristics, just as our long-time experience and in-depth technical expertise. Through continuity in collaboration and our sustained interest in the success of our customers, we are able to jointly share in our success.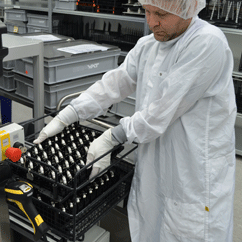 COMVAT, Haag (CH)
The workpiece carrier system tech-rack variogrid is used for the entire process from the lathe to storage as well as assembly. This way, the workpiece carrier systems are fitted at the lathe and then cleaned in a fully-automated ultrasonic cleaner with 7 baths. Cleaning is performed in an ISO8 cleanroom environment and the focus is on film and optical cleanliness (vacuum suitability). After that, the workpiece carrier systems are stacked in Euro containers for storage and future assembly.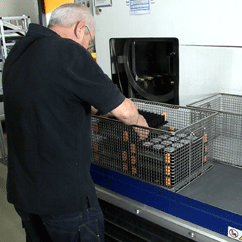 SENSOR COMPANIES (CH)
Workpiece carrier systems tech-rack variogrid are used in the production of sensor technology from the rotation and milling center to storage. The clear identification ensures that the workpiece carrier system is placed with the right divisions in storage. The rotation and milling center produces automatically overnight, thanks to 48 different workpiece carrier systems fitted by the robot.
Video on how to use the tech-rack variogrid workpiece carrier system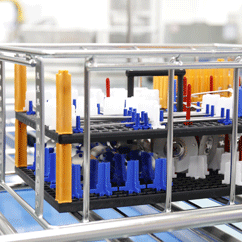 FRENCKEN MECHATRONICS B.V., Eindhoven (NL)
Frencken develops, builds and manufactures individual components comissioned by customers, as well as complete machines and systems for the areas of medicine and research. Its customers include companies such as ASML, Philips Medical Systems, Bruker, and Thermo Fisher Scientific. Development and manufacturing for the hi-tech sector also means meeting top cleaning requirements. Frencken works with the latest system technologies, which includes the tech-rack variogrid system. The flexible workpiece carrier system ensures optimal cleaning results, offers top protection for delicate surfaces and enables safe transport of components.