Jerrycan approved for contact with food and UN type tested
The SLT plastic canisters  have a very high stability despite their low weight. Thanks to the transparent viewing strip and scale you have the exact filling quantity at a glance. The canisters made of HD-PE can be used universally, food as well as dangerous goods can be stored and transported in them.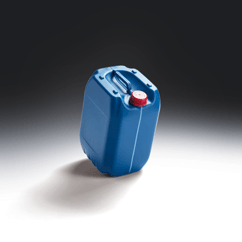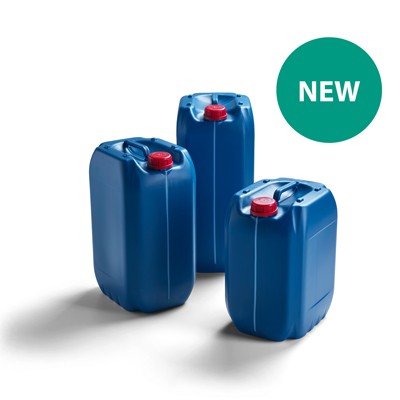 Now available with recycled material!
Jerrycan SLT
Stable and light jerrycans made of HDPE | UN type tested | approved for contact with food | residue emptying
High stability due to patented stability corners, stacking cams and anti-elephant feet
Transparent viewing strips enable exact control of the fill status at any time – incl. fill marking
Ergonomic grip for outstanding griping and carrying comfort
Available in "blue" and "natural" colors (other colors on request)
Residue emptying even when pouring from the side
Complete use of the filling material
Approval for contact with food available in accordance with EC 1935/2004, EC 2023/2006 and
EC 10/2011 in the latest valid version.
Universal use due to extensive dangerous goods approvals
Available in material independently tested in the pharmaceutical/medical industry on request
Jerrycan is compliant with EN 12712-2000
Tamper protection
Filler opening SK60x6 with an internal diameter of 48 mm or SK70x6 with a diameter of 57 mm available
Available in: 20l, 22,5l, 25l, 27,5l, 30l and 32,5l
Special accessories
Screw cap SK60 or SK70, compliant with EN 12713-2000
Gas inlet and outlet valve available on request
Screw cap with snap ring
Customer-specific embossing on request
New: SLT Jerrycan with recycled material
The SLT jerrycans are now available with recycled material. With a content of recycled material of up to 35 %, UN approvals for hazardous goods are possible.