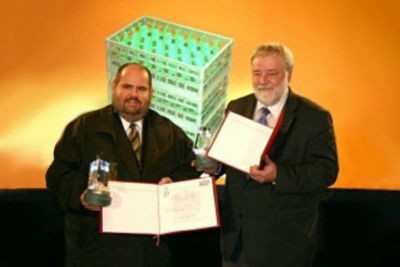 Special ARA system award goes to FRIES
Innovative packaging manufacturer from Sulz receives the special ARA System Award as part of the 2008 Austrian State Prize awards ceremony for exemplary packaging. Engineer Thomas Rhomberg will accept the award at 6 pm on November 5, 2008 in Vienna.
A plastic multipurpose transport container (600 x 400 mm), in which the filling material can also be cleaned directly in commercial cleaning units, will be presented for the first time. The modular multipurpose system Clix-Rack 600 (CR600) is designed in line with EURO pallets (1.2 x 0.8 m).
The innovation lies mainly in a newly developed compartment with a honeycomb structure. The development has since become patent protected. This new compartment offers users around 30% greater space utilization compared to conventional solutions, resulting in considerable savings in transportation costs. A new ground grid design also provides better cleaning results when it comes to conserving resources such as water and energy.
The panel of experts were won over by the substantial savings in transportation costs and the advanced development in relation to the environment and conservation of resources.