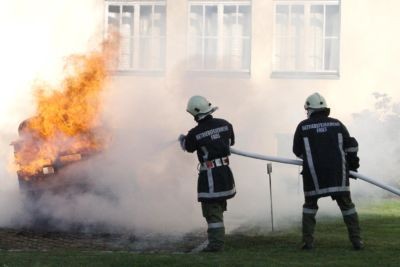 Every two years, the Austrian Federal Fire Brigade Association (ÖBFV) awards companies from all federal states who have promoted their fire service-friendly practice in recent years with the 'Feuerwehrfreundlicher Arbeitgeber' (Fire Service-Friendly Employer) prize.
Put forward by the National Fire Brigade Association, FRIES was awarded the 2013 Fire Service-friendly Employer prize by the President of the ÖBFV.
FRIES Kunststofftechnik GmbH, based in Sulz, manufactures packaging, technical components, cleaning and storage racks for the catering industry, and returnable cups for football stadiums, concerts, and other major events.
Company Director Gerhard Marte and Chief Fire Officer of the Plant Fire Service, Herbert Rauter, are to accept the 2013 FIRE SERVICE AWARD on October 24 as part of the ceremony in the Federal Ministry of Internal Affairs in Vienna.
The FRIES plant fire brigade was founded in 1951 and currently comprises 14 firefighters. As a result, this makes every fifth employee a member of the plant fire brigade.
Of the plant fire brigade members, 6 of them are also employed by a local fire department.
The plant fire service were also to thank for preventing even further damage in a major fire incident in 2006. The production process was also virtually able to continue uninterrupted because the production facilities and shaping tools required for this had not been damaged.