Apprenticeships at FRIES
Your sustainable career in plastics
We are an outstanding training company and will train you to become a highly qualified employee. The training to become a specialist offers you outstanding career opportunities. All our doors are open to you, even after your apprenticeship, including executive positions for women and men alike.
At FRIES, apprentices are in the thick of thingsright from the start. Being highly involved in the responsible production processes of a top international technology company, every day is exciting, and every production process is different. Of course, qualified instructors will look after you during your apprenticeship. Personal development, outdoor activities and team eventsround out our curriculum. Apply now! We look forward to hearing from you!
Overview of apprenticeships
An apprenticeship with added value
An apprenticeship in a great work environment with lots of variety thanks to rotation within the departments. So that you are prepared for a wide range of tasks, you will receive personal support from us. We offer you thorough professional development in a productive environment.
Your apprenticeship with FRIES
At FRIES, we place a special emphasis on team building.
For this reason, we organize a variety of activities for when we are not at work. Excursions such as rafting & canyoning, archery, climbing and paintball have generated great enthusiasm among our apprentices.
An outstanding training company
We set high quality standards for training apprentices, as we regard it as an investment in the future of our new employees. Currently, we are training five apprentices at our main site in Sulz in the fields of metal/toolmaking technology, and plastics technology, and are also training an industrial clerk.
In 2013, 2016, 2019, and 2022, we successfully received the "Outstanding Training Company" certificate. The importance of the apprenticeship training is reflected both in the distinction as an "Outstanding Training Company" and in the outstanding performance of our apprentices in various competitions. We are proud of our apprentices.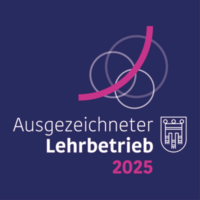 Fries Kunstofftechnik GmbH
For the attention of Michael Berchtold
Training Manager
Schützenstraße 19
6832 Sulz – Austria