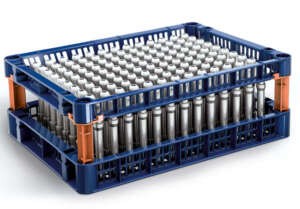 The advanced tech-rack custom+ 300×400 industrial basket takes component logistics into a new era. Delicate parts and components are protected by the industrial basket throughout the entire supply chain. This includes internal work processes as well as any necessary transportation and handling outside the company. For example, when the component is transported to another company for galvanizing, electroplating or anodizing. There is zero risk of inappropriate handling by external service providers. This is because the biggest advantage of the tech-rack custom+ 300×400 industrial basket is a unique all-in-one system. The components go in the basket and come back in the basket. This guarantees the highest possible product protection with extremely simple handling. And all of this comes with pallet-compatible dimensions for both EURO pallets and industrial pallets.
Multiple options for individual use
The tech-rack custom+ 300×400 industrial basket offers a variety of possibilities. With flexible plug-in pins, lengthwise and cross dividers and accessories, the cleaning baskets can be designed to securely hold components of a wide variety of shapes and sizes. Rotary extenders and intermediate frames in a wide range of heights also makes it stackable up to 200 millimeters. It comes with rounded corners to provide maximum protection and safety to prevent injuries and damage to delicate surfaces. Another plus is the beveled stacking edges or stacking knobs, which prevent the capillary effect. And it weighs very little as well. Because the tech-rack custom+ 300×400 is truly a lightweight.
Cost reduction through efficiency
Overall, this industrial basket made of high-quality plastic helps to reduce costs considerably because of how efficient it is. There is no need to move and repack, and no need to use disposable protective packaging any more. Even so, this reusable tech-rack custom+ 300×400 satisfies the most stringent requirements for industrial parts cleaning. This applies to thermal and chemical cleaning processes as well as to ultrasound cleaning.
Smart product innovation
This new product has also been designed with fully automated production in mind. Therefore, the tech-rack custom+ 300×400 has been designed so that there is no problem with the robot loading and unloading parts. This is achieved by special interfaces integrated into the lateral side. Several baskets can also be stacked on a pallet at the same time using a gripper arm. With its labeling and contact-free data transfer (RFID), logistical and production processes can also be tracked seamlessly.