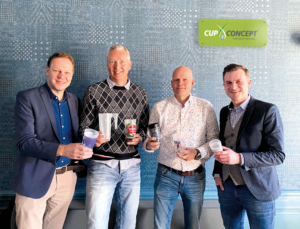 Cup Concept Mehrwegsysteme GmbH, a subsidiary of FRIES, is expanding its site and acquiring 40 percent of the company StarCups, based in the Netherlands. Together, the aim is to position the Cup Concept brand as market leader in the Netherlands as well.
Europe-wide network
Cup Concept Mehrwegsysteme GmbH continues to expand. Eight locations with its own rinsing and service stations in Germany and Austria and a Europe-wide network of subsidiaries and partners make the Sulz-based subsidiary of FRIES Kunststofftechnik GmbH the market leader for reusable systems in German-speaking countries. The reusable cups are primarily used in soccer stadiums and at various large events. Beverage producers and organizers of rock and pop events—including for stars such as Helene Fischer and Rammstein—are also among its customers.
40 percent stake in StarCups
All-in service provider Cup Concept is continuing its expansion strategy in Western Europe with the purchase of a 40 percent stake in StarCups, based in Leeuwarden, Netherlands. "With this, we are positioning another dishwashing center with a storage and rental station," says Gerhard Bertsch, Managing Director at Cup Concept Mehrwegsysteme. "This additional logistics center allows the cups to be transported a short distance, which makes both economic and environmental sense." Steady growth can also be expected in the future. Locations in France, Portugal and Scandinavia are in planning.
Avoiding tons of plastic waste
The returnable plastic cups produced at the FRIES headquarters in Sulz are characterized by their durability. In its sustainability strategy, Cup Concept Mehrwegsysteme GmbH focuses in particular on the circular economy. Just 100,000 reusable cups used at a large event can save a ton of waste that would have been generated by discarded disposable cups.