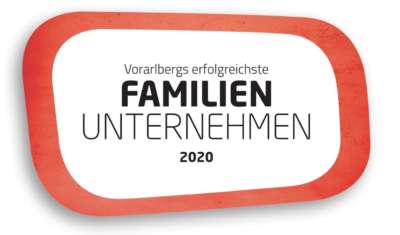 We are delighted to have received the "Vorarlberg's Most Successful Family Business 2020" award in the 21-100 employees category. We convinced the jury with sustainability, innovation and consistency. The award is presented by Wann&Wo in cooperation with the State of Vorarlberg, the Vorarlberg Chamber of Labor and the Generali insurance group.
A family business with a history
For over 120 years, FRIES has stood for sustainability, innovation, versatility and consistency. The company began in 1896 as a producer of paper spools for the textile industry. Today's plastics processor is now a family business in its third generation. FRIES develops plastic products in four strategic business areas. These are divided into packaging, gastronomy, industrial baskets and technical mouldings.
The company is the European market leader for commercial dishwasher racks. These racks are used worldwide in renowned hotels like the Marriot Group and on cruise ships of the "Mein Schiff" brand. Together with its subsidiary Cup Concept (Germany), FRIES also produces reusable cups for major events such as concerts, festivals and soccer matches. The family-owned company also specializes in industrial packaging. Drums, canisters, buckets and cans. These are used to transport food, hazardous materials, pharmaceuticals, chemicals and explosive substances all over the world. FRIES supplies customers in more than 50 countries. The export rate is 89%.
Innovation and product development
FRIES is expanding its product range in the various strategic business areas through constant innovation and product development. FRIES is confident that the company is fit for the future with in-house developments and the diversification of its product portfolio. FRIES considers itself to be a global niche player.
Despite the internationalization that FRIES is constantly striving for, the heart of the company is and will always be the company's production site in Sulz, Austria. Services, such as the washing of reusable cups, are provided at eight other locations. An additional location enables reusable cups to be printed with the screen printing and digital printing processes.
One of the company's most recent successes is the direct printing of reusable cups with the digital printing process. This process allows the printing of reusable cups starting from a quantity of 100 pieces. These cups can be easily ordered via the online store.
Another new product is the "Hot to Go" cup. This is a reusable cup for hot beverages. This enables companies or institutions that rely on sustainable and environmentally friendly catering solutions to use an environmentally friendly in-house solution for coffee-to-go.
FRIES also develops environmentally friendly innovations in the packaging sector. For example, the company recently developed a hazardous materials canister made with up to 35% recycled content.
Employees as the key to success
These innovations and the above-average quality of the company's products are only made possible by highly qualified and loyal employees. In order to ensure that its employees are highly qualified, FRIES attaches great importance to internal apprentice training. The company has already been honored several times for being an "excellent training company." FRIES has been training apprentices for more than 60 years.
You can find the report and the other companies that have received awards here >>