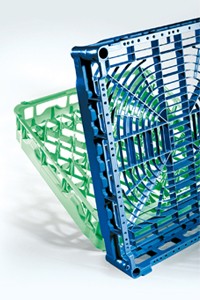 During the past few months, the experts at FRIES Kunststofftechnik have been working on optimising the FRIES Rack System catering rinsing racks, and have launched two optimised rinsing racks on the market. The basic rack NK+ size 500×500, which also serves as a base for the glass washing racks, and the plate rack P-18-12+. The new rinsing racks are compatible with the existing FRIES Rack catering racks.
The focus is on improved rinsing results and more simple handling
The new basic racks have an innovative, more open floor structure. The structure was adjusted in problem areas such as the rack centre and corners. The improved duplex base ensures that more water reaches the inside of the rack and the rinsing result is optimised. The new structure has reduced the floor area by 8%.
Changes have also been made to the side walls of the basic racks. The new wave design on the outer walls allows for better water distribution, directing it into the rack. In addition, the handles have been designed ergonomically to make handling easier.
Plate rack P-18-12+ ensures optimal rinsing results, even on problem zones
FRIES Rack System has taken special care to optimise rinsing results in its new plate rinsing rack, even on existing problem zones. Particular attention was paid to the first and last row of plates. Higher plate fingers ensure that the plates are held securely in the rinsing rack. In addition, the floor profile and wall construction were optimised. The water jet is directed into the inside of the rack and ensures an even better rinsing result.